Last updated on November 29, 2023
Every year after my birthday, I like to write a short essay reflecting on my life in the last year: the experiences I've had, the interactions with people known and met, and what I've learned from all of it. This year I have decided to start sharing that essay publicly.
In 2023 I turned 34 years old. This has been a year of my life that could be described as having ups and downs, but that might be an understatement. It has been filled with moments of incredible happiness, uncertainty, sorrow, and bittersweet joy.
This February, I asked my girlfriend of 18 months to marry me, and she said yes. It wasn't a surprise to either of us, but having the ring in my pocket and waiting for just the right time to ask made me about as nervous as anything in my adult life has. We began wedding planning that day, and I'm happy to say that in a few weeks, we'll be husband and wife (and on our honeymoon).
Before that, in January, my grandmother had started treatment for stage four peritoneal cancer. We all knew that the prognosis wasn't especially good, but we didn't want to immediately dismiss any hope that it might work. After all, she had survived breast cancer when I was a kid.
After a few months of treatment causing her horrible pain and discomfort—worse than the cancer alone had given her—she decided to stop the treatment. We all knew it was a matter of time, and that our relationship with her was changing to something different. As she started hospice care, we all tried to share whatever time we could with her. Thankfully for all of us, she never lost her ability to communicate with us until very close to the end.
By late May, we all started to know that day was approaching, and I spent as much time with her as I could. What you should know is that her and my grandfather have been as close of a thing to parents to me as my parents have ever been able to be. The way I've explained it is that because my parents were divorced when I was a toddler, my mom (and later stepdad) worked long hours into the evenings, and I only saw my dad for a weekend each month, they stepped into that role in my life in many ways.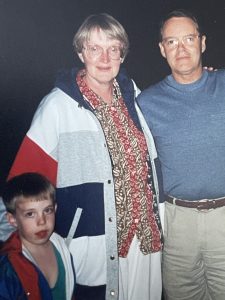 Naturally my grandparents—who have been married my whole life and always lived in the same house—provided me with a safe and consistent place. In fact, during and for the year after my parents' divorce, they took me in entirely. Being that they were both teachers, I learned a lot from them, and gained a lifelong love of learning. Road trips in the summer and on school breaks with them turned into my love of travel today. They were where I went after school, the ones who helped me with homework. They helped me be able to go to college. Without them, I would not be who I am today.
My grandmother had turned 81 in September of 2022. She knew that she had lived a long and happy and meaningful life, she had loved her friends and family dearly, and she was as prepared emotionally and spiritually to die as anyone I've ever known (an unfortunate part of my job being that I've known many people in their final moments). There was only one thing she felt the need to apologize for in those last few weeks and days.
"I'm sorry I won't be there for your wedding." I took a moment to process those words and what they meant. I had thought about that, but of course I hadn't really thought about it. I assured her that it was okay and that we knew she would be there with us in spirit.
A week or so later on the night of May 25th we were all gathered around her bedside at home as she began to sink into that unconsciousness from which she wouldn't wake up. The last words she had spoken to me the day before were that she loved us but that she was tired. As the night went on I stayed at her bedside along with my grandfather, my mother, and the many other members of our family with whom she'd shared her life and love.
When I was much younger (in my early 20s I believe) my grandmother asked me if I would be the one to deliver her eulogy when she died, which I had agreed to and not thought that much about. Over a decade later, in the late hours of the night and early hours of the morning of May 26th, I thought about what I might say. Words and thoughts circled in my brain about this experience, about her life and mine, and her life with everyone else in the room.
What stuck with me in those moments were how my grandfather had hardly left her side for the last six months, how he'd taken care of her and made sure that he had every moment with her that he could before she was gone. I realized that in the way that these two teachers had taught me so much in my young life both directly and indirectly, the end of my grandmother's life was the last lesson I would learn from the two of them together.
In the last moments of her life, I was sitting on the opposite side of my grandmother's bed from my grandfather. I remember him telling her how much he loved her and how he would miss her, but that it was okay for her to go home because he knew she would be waiting for him. At 7:16am on the 26th she passed away with all of us at her side. A few days later at her funeral I gave her eulogy, and spoke about what I had learned from both my grandparents in her last few days.
We're all just walking each other home. That phrase from yogi and author Ram Dass has been on my mind a lot over the last year, and I used it at least once in the eulogy. We'll all very likely be in a the position of being with a loved one in their final moments. It is a bittersweet privilege, but it may just be the most important thing we do in that relationship to walk with that person on their final steps in this life.
As my fiancé and I prepare in a couple of weeks to get married and begin the journey of our life together, I am reminded of what the vows we will commit to each other say "… until we are parted by death." My hope is that we will have many happy, healthy decades together, but I know that one day one of us will leave this world before the other and our journey together in this life will end.
To love someone so deeply that you commit to them in marriage is by necessity to acknowledge the inescapability of death—that someday one will leave the other behind. Seeing that love lived out in my grandparents in the final chapter of their journey has shown me what it means to commit to that love, and it has made me as sure as I could be of that love in my future
At 34 years, I know for so many reasons that my soon-to-be wife is the right person for me, but perhaps the most important reason is this: no matter how long our walk together will be, and no matter who reaches our home first, I want more than anything to be walking there beside her, hand-in-hand.